Based near Düsseldorf, the company has been developing and building telescopic jib cranes for more than 50 years.
Active in the steel industry for the cleaning and demolition of ladle refractory or converter refractory, TML is able to offer a solution for every application.
Products from the TML range can also be found in mining works, tunnel construction or in the making of embankments on roads or railways.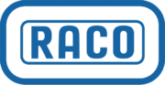 More than 60 years of experience and Raco's know-how have made Raco electric cylinders a preferred drive concept in the field of electromechanical linear movements.
This was followed by the development of high-precision drive ball screws and spring-loaded braking devices, which are used as safety brakes in rail-guided commuter cars.
Raco provides tailor-made solutions according to the customer's wishes by delivering quality products for which precision drive is required.